As a member you get access to the Tools, Templates, Training, and Support You Need To Build a Premium Tax & Advisory Practice.
Engage
Software
When you need to increase your margins & stop giving away time.
$95 / month
FREE Enrollment
Join the early access list
"Magic" client pricing link
Pre-built Client Service Bundles

(Business & Individual Clients)
Recommended Fair-Market Pricing for any client scenario
Fully Automated Client Onboarding

(with eSignatures & payments)
Shared Client-Facing Dashboard

(with auto-text & email reminders)
Advise
Software + Advisory Training
When you need a proven process to deliver strategic advisory work.
$275 / month
FREE Enrollment
Join the early access list
All ENGAGE features, plus:
On-Demand Strategic Advisory Training
Strategic Advisory Certification
Strategic Advisory Tools, Templates, Checklists, and Scripts
Accelerate
Software + Training + Marketing
Move faster with 1-on-1 Support & Done-for-You Marketing.
$625 / month
+ $2,495 Enrollment
All ADVISE features, plus:

Expertly designed and optimized website
Customized client referral system
Fully designed Client eGuide and Digital Marketing flyers
Year-Round Dedicated Support & Coaching
SmartPath Membership


includes everything you need


to get paid for your knowledge.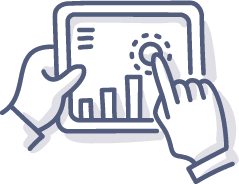 On-Demand Implementation Portal
Access all training, frameworks, guides, tools and templates, anywhere and from any device through the SmartPath Implementation Portal.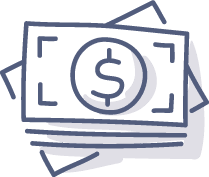 Optimized Value Pricing Structure
Immediately increase your cash flow and align your pricing with today's client needs.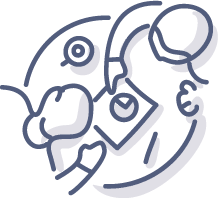 Personal Implementation Support
Receive live, 1-on-1 help from the SmartPath team to optimize your pricing throughout the year.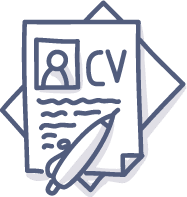 Marketing Library
Customizable flyers, guides, templates, and scripting so you can educate new and existing clients about your new value.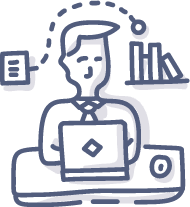 Tech Recommendations
In-depth technology recommendations for creating a fully scalable virtual operation: CRM, HR, Appointments, Video Conferencing, Online Payments, & more.
Simplified Workflow Model
Pre-Built Workflow processes for delivering work at scale for individuals and business clients.
Year-round Advisory Framework
Simple step-by-step process to make your advisory work as comfortable and repeatable as doing a tax return. Painlessly integrate your compliance services with intelligent advisory services for business and personal clients.

100% Money-Back Guarantee
We have built the ultimate program for tax professionals looking to build a profitable advisory business.
Frequently Asked Questions
How long does it take to see results in my firm?
7-14 days. As soon as you become a member you gain unlimited access to pre-built components where 90% of the work is already done for you. You can customize our templates, use the pricing calculators, and start engaging new or existing clients within the first week.
Will this work for my practice?
Yes, guaranteed. All SmartPath methods and materials have been proven and tested with over 1,000 firms across all 50 states. You'll learn exactly what to customize in your process to get the results you want without the guesswork.
When should I get started?
The sooner you start, the sooner you can increase your monthly cash flow and begin eliminating friction and stress in your practice.  We help you jump-start your results at all times of the year (including tax season!). Don't keep waiting, giving away your time and expertise for free, and working with clients you don't enjoy. The perfect time to start is today.
What happens once I enroll?
You'll gain immediate access to all tools, templates, and training through the SmartPath Portal. You'll also receive an email to schedule your free Concierge Kick-off Call with an implementation expert. During that call we'll spend 30-60 minutes with you answering any questions and ensure you have everything you need to start seeing results right away. 
If I want to change Membership Levels, can I do that?
Yes. We don't believe in long-term contracts. You can upgrade or downgrade your membership level at any time. Just email us (support@smartpath.co) and we'll take care of it for you.
Can my staff/partner/office manager be involved?
Absolutely! Your membership includes access for your firm. If you need to add other staff or managers to the training portal, just let us know during your kick-off call and we create logins for them.
Not sure if a SmartPath membership is right for you?
Book a free call. We can discuss your current pricing and help you make the best decision for you.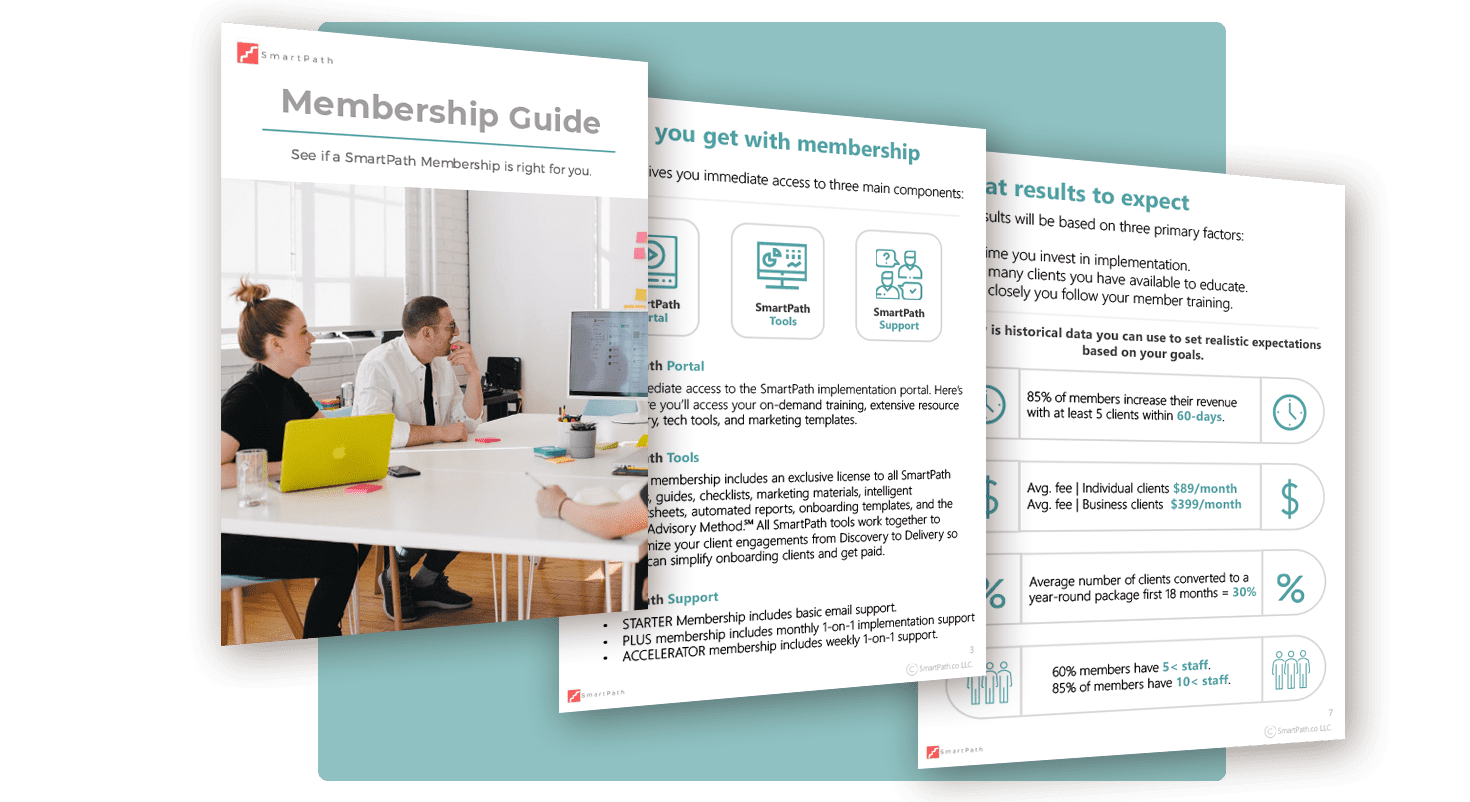 SmartPath boosts profits for small Tax & Accounting firms. We provide tools that target higher-paying clients and unlock firm productivity by moving to a simple subscription pricing model.
Copyright 2021 | SmartPath.Co LLC