How to Eliminate Scope Creep From Any Engagement In 4 Easy Steps
Death by 1,000 cuts.
A client calls with a "quick question" about something they think is simple, but it turns into an hour and a half of free tax planning.
A client pays for their business tax prep, but you need to spend 2 hours cleaning up their QuickBooks.

It is astonishing how easy it is to start doing client work that you haven't been paid for.
If you're a home builder, it's clear to your client that adding a 4th bathroom to their house will cost more. Everyone "gets it".
But taxes and accounting are knowledge work. Clients have no clue how difficult or impactful something maybe when they ask for help.

So it falls on you as the professional in the room to educate them and ensure they're paying for all the value being delivered.
That includes knowledge and expertise, not just time and labor.
But when you have 10 extensions to finish, your admin is out with the flu, and you haven't slept well all week – it's objectively hard to always hold clients accountable to the scope of their engagement.
Because you don't always account for every piece of value they want and you're providing, things start to slide and it's really not your fault.
Defining scope in the tax & accounting industry is an innate challenge.
The good news is this industry has been around for a long time.
There are proven methods you can use to manage scope and get rid of scope creep!
What happens if you get full control over the scope for every client?
You can easily add services to an engagement without arguing with the client.
You can get paid for your knowledge and expertise, not just your labor.
You can attract clients that respect you as a professional and block clients that want to take advantage of you.
So how do you solve scope creep in your practice?
We want to give you The Scope Enforcer Blueprint©.
It's been tested by thousands of small firm owners already who were done giving away free work and wanted to be fairly compensated.
Why This Blueprint?
We've been working with small firm owners for over 14 years helping them implement better pricing.
Eventually, a pattern emerged that showed the four things that would control scope.
We've studied this pattern thousands of times, with firms across all 50 states.
Now any firm, regardless of size, can follow this pattern and take back control of their engagements.

Key Elements of the Blueprint
The Scope Enforcer Blueprint© has 4 specific elements you'll need to execute to fully control Scope in your practice:

Define services clients can understand
Display each service to clients
Create a response template for requests outside of the scope
Agree to new terms and update the engagement
Let's break down each element.
1 | Define services clients can understand
How are you currently defining the services in your engagement?
A common "definition" in this industry has been the forms being filed in the return.
At one time that was sufficient because most clients would fall within a tight range of complexity.
That's no longer the case in today's environment.
One client with very little investment activity could have a simple "Schedule D"
Another client with multiple stock trades, crypto accounts, rental properties, and business equity would have a very different "Schedule D"
Clients' financial lives have become exponentially more complicated.
Charging by the form no longer accounts for the huge swings in complexity between clients.
Clients want to pay for actual outcomes in their lives and businesses.
They don't care about forms or schedules.
And they don't know how forms or schedules impact the scope of working together.
So when you're creating an engagement for a client, it's best to start with defining your services:
In a way clients can understand.
With outcomes that can be delivered.

Before your engagement may have looked like this:

2023 Tax Prep

Form 1
Form 2
Form 3 (with schedules X,Y,Z)
Total = $750.00

In this format:
👎The elements don't fully account for the unique complexity of the client.
👎It's filled with "tax jargon" the client doesn't understand.
👎It's not tied to actions or outcomes that make the scope clear.
(example: "A functional 4th bathroom")
Once you define the services clients can understand…

Your engagement will look something like this:
2023 Tax Help

1. Business Accounting Clean Up
2. Business Tax Savings Plan
3. Personal Tax Savings Plan
4. Business Tax Prep
5. Personal Tax Prep
6. IRS Correspondence Help
Total = $99.00/month
In this format:
🎉The client can understand what they're paying for
🎉Each item is an action that can be "completed" to mark the end of scope
🎉You can easily account for the unique complexity in the client's situation
🎉Expert level strategy – You can spread your scope throughout the year instead of just tax season so you can charge a monthly fee that increases the overall engagement amount!
Once a client truly understands the services they're paying for AND how that payment will create the results that want:
They will be able to see WHY what they're asking for may be out of scope.
And will be more agreeable to adjusting the engagement if needed.
Conversely, if a client doesn't know why we need to change our agreement or even what our agreement really means in the first place -they will naturally push back on changes.

2 | Display Each Service to Clients
Once the client understands the services in their engagement AND the services are spelled out as actions that can be "completed", we need to display the engagement specifics to the client.
There are some clients that actively try to take advantage of your kindness and get as much free work as they can.
Thankfully, there are many more clients out there that aren't trying to take advantage of you, they just don't know that what they're asking is outside of what they're paying for.
Displaying the services the client is engaged for and what the status of each service is, will give you a mechanism of control.
Everyone in the engagement – you, your clients, and your staff, will all know:

What was agreed upon
What has been delivered
What is still outstanding
If you never share this information with the client it's natural that someone in the mix will forget and might deliver or receive work that is outside of scope.
How do you display this information?
Could be as simple as an email with a time and date stamp
A shared spreadsheet
Or a digital dashboard
The most important part is making sure everyone involved can look at the same list of items that have already been agreed upon.
And if they have been delivered, or not.
There are only three options for the status of an item:
It hasn't started yet.
It's in progress.
Or it's delivered.
No need to overcomplicate it.
3 | Create a Response Template for Requests Outside of Scope
Client goals naturally morph over time.
People may need more help.
When this happens, and the help they need is outside of the agreed-upon services, you need a template to let them know this is a change to the agreement.
The client needing a change doesn't make them a villain.
You deserve to be compensated for the change doesn't make you one.
If you don't have a template to communicate this change whenever it comes up, it will be hard to follow your own rules.
You'll just let it slide.
Or you'll make the excuse that you'll bill them later, and that's just not sustainable.
The template can be simple:
An email you keep in your Outlook or Gmail
A script that your admin uses
Or if you're a larger firm you may need a more formal "Request/Approval" flow
Here's verbiage that will work well in most situations –
"That's something we have experience with, and I'd be happy to help!

[Confirm their existing Services]
"We're already engaged for tax prep."
Help with this would fall under [list the name of the new service].
[If you know what the new service would cost…]
I estimate the adjustment to the existing engagement would be $_____
– If you would like us to use the payment method we have on file just reply to this email with your approval and we can get started.
[If you do not know what the new service would cost…]
To get started we can schedule a quick 5-minute chat to verify the best approach and estimate any fees. When can we talk?
This simple flow stops your knee-jerk reaction to just jump in and try to solve the problem without first scoping the new work and identifying a fair price for your help.
4 | Agree to New Terms and Update the Engagement
The last critical part of the Blueprint is re-engaging the client for the new work.
You and the client agreed to X services for X price. But that agreement has changed.
So we simply need to document the new agreement and collect payment.
Here are the elements you'll want to account for in the new terms:
What's the name of the new service(s)?

Ex: Business & Personal Tax Plan

What's the desired outcome for the client when this service is complete?

Ex: Research, analyze, and implement strategies to reduce your tax liability in your next tax filing.

How much will the adjustment in fee be compared to the old agreement?

Ex: Previous Tax Prep Only Engagement = $750
Business & Personal Tax Plan Engagement = $1,250
Agreed Upon Adjustment = $500
When will this payment need to be made and in what installments?

Ex: Adjusted Amount will be paid in full, upfront.

When will the new services need to be delivered compared to the old agreement?

Ex: Tax planning process will begin upon completed filing of the 2023 tax returns and will be completed by 12/31/2024

What will the client be responsible to do in order to receive the new value?

Ex: Client must provide access to up-to-date business accounting by the end of each quarter.
Client's spouse must provide access to pay stubs, all other income sources, and all investment gains and losses.
Once this new "agreement" has been acknowledged by all parties, you can collect payment and schedule the work.
It's important to display these new services to your client just like you would have with their previous engagement so they can see all their deliverables and status.
The Biggest Myth
We often hear this when teaching this process to firm owners:
"This seems like overkill, this process will take too long…"
Reality –
How much revenue are you losing from the services you're giving away for free each year?
How much energy are you wasting on unpaid work that you could be exerting on paid engagements?
How frustrated are you with clients taking advantage of your kindness?
All mature firms and organizations have a defined process for change requests.
The good news is if you need a process like this now, and you haven't in the past, that just means that your firm is growing.
Quick Review
To eliminate scope creep in your practice, use the Scope Enforcer Blueprint©
Define services clients can understand.
Display each service and its status to clients.
Create a response template for requests outside of scope.
Agree to new terms and update the engagement.

Next Steps
You don't have to implement this on your own…there are two ways we can help.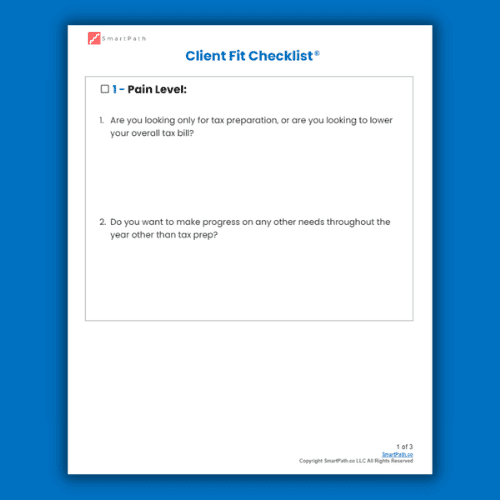 If you want to fully automate Scope Management in your practice, but just don't have the time to do it yourself – check out the SmartPath Engage software that will do 99% of the work for you. (Learn more here.)
---
William Hamilton is the Founder of SmartPath.co
Over the last 14 years, they have helped 1,000's of Tax Pros perfect their pricing so they can focus on work they enjoy.