3 Secrets to Onboarding Tax Clients 10x Faster
Onboarding clients can be a nightmare if you don't have a clear structure for your onboarding process.
The amount of data and documents you need from clients can be overwhelming.
It's easy to forget to ask for things you need to start their work.
Clients may not have easy access to everything you need, so they drag their feet.
You've probably had your own onboarding horror stories that give you chills just thinking about it.
Every tax & accounting firm is constantly refining its onboarding process because this is such an important part of the client workflow.
The dream onboarding scenario is when:

You know exactly what you need from a client based on the specific services they paid for.
The client can see that same list of items, so they know what to expect.
The client is highly motivated to give you the data and documents you need so they act quickly without a ton of "follow-up" from you.
Everyone knows when action items are complete so there is no need for constant "status updates". 
This may sound like a pipedream but it is completely possible if you:
Follow the right onboarding structure.
That structure is focused on the critical elements that actually matter.
So how do you improve your onboarding process in your practice?
We want to give you the 10x Faster Onboarding Checklist©.
It's specifically designed for small firms that are ready to significantly increase their onboarding efficiency – not a small incremental increase, but a massive 2-10x increase.
This increase is only possible if you attack the key issues that create onboarding friction and you're willing to try a different approach than you've used in the past.
Why This Checklist
We've been working with small firm owners for over 14 years helping them create efficiency throughout the practice by focusing on the big things that really move the needle.
We've studied these efficiency patterns thousands of times, with firms across all 50 states.
Any firm, regardless of size, can follow this checklist and make their onboarding faster and less painful.

How to Improve your onboarding 2-10x
The 10x Faster Onboarding Checklist© addresses the three key areas that create efficiency during client onboarding:

Get Client Buy-In
Getting buy-in from the client by tying your onboarding to the specific progress the client wants to make.

Use a Shared View of Action Items
Making sure the firm and the client are working off of a shared view of what needs to be done.

Set Clear Expectations & Follow Up
Setting clear expectations of what to expect of the onboarding process and then automating your follow-up to align.
Let's dive into each key area.
1 | Get Client Buy-in
If you had a puppy, and that puppy needed to take some medicine in the form of a pill, there are two basic approaches to take:

Physically hold the dog's mouth open and try to force them to swallow it.
Or hide the pill in a delicious meatball and watch the puppy happily eat it's treat.
One way is very difficult (and potentially traumatic for everyone involved).
The other way is pretty easy and pain-free.
Obviously, your clients aren't puppies, but this illustrates a key point about onboarding…
Why do clients drag their feet during onboarding?
Because they don't see how:
Gathering a bunch of documents
Answering all of your questions
Searching for items they haven't laid eyes on in months or years
Is going to lead to the results they care about.
Onboarding is "medicine" and they don't know if doing it will make things better.
The "meatball" is the often unspoken progress they hope to achieve by paying for your services.
They really didn't engage with you to get their taxes done or keep their accounting up-to-date. Clients don't care about those things. They see them as more "medicine".
In reality, they purchased your services because they wanted:

To stay out of trouble with the IRS
Get a technical task off their plate so they could grow their business
Lower their tax bill so they have more cash to save and invest
Or any other result they want to make progress on in their life or business.
So it's your job before you begin your onboarding process, to define the things they care about most. Then show them how working with you and executing the onboarding steps quickly, will get them what they want faster.
How to Do This In Your Practice
Thankfully this doesn't take magic, hypnotism, or a ton of time.
You simply talk to them and have them describe 1-3 things they hope to make progress on by the end of the engagement.

Make this the first step in your new onboarding process.
Once you know what they care about – the "meatball" – then you can document their motivations via email and reference them throughout your onboarding process.
Example of defining their top priorities:
"Hey [Client Name],
Based on our call today, here are the top things you want to get accomplished this year:
Get your taxes done quickly so you can get a refund to pay off some credit cards.
Identify any potential tax savings so you can have some more cash left over to fund travel plans.
Have us take over the accounting for your rental properties so you can get some time back every month to spend with the family and lower stress."
Example of bringing up their priorities in moments of friction:
"Hey [Client Name],
My admin mentioned they've reached out a couple of times and still haven't received your expenses report for your rental…
I know downloading that stuff from your bank can be a hassle.
As soon as you get that to us we can take over so you don't ever have to spend your weekends thinking about "accounting" again…
Is getting some time back each week still a priority?"
Clients don't care about what we want or even need.

And that doesn't mean they're bad, it means they're human.
The more we can focus on helping them get what they want – "the meatball", the faster and easier your onboarding process will be.

2 | Use a Shared View of Action Items
Once you have a way to keep client priorities front and center, it's time to create a shared view of action items.
Why is a shared action item list critical?
It forces thinking through a more accurate checklist that looks at the whole project A-Z (so critical items that need to happen in order, aren't missed).

When a client can "see" everything that needs to be done, misunderstandings about individual steps are revealed sooner than later.

Everyone can be held accountable because there is no requirement in a separate silo – no one can say "I didn't know I was supposed to do that".
How to Do This In Your Practice
Think about the top 3-5 services you offer clients.
Usually, this will be some type of bundled or packaged service depending on what the client needs. Examples:
> Business Tax Prep Package
> Business Tax & Accounting Package
> Business Tax, Accounting, and Tax Planning Package
> Personal Tax Prep & Planning Package
Next, based on each service level the client would enroll in, make a list of onboarding steps and required data and/or documents.
It's important to think about two different categories of onboarding needs:
Onboarding data/docs that are unique based on the package the client selects
You would need Quickbooks Access for the Business Tax & Accounting Package, but not the Business Tax Prep only or the Personal Tax Prep Package.

Things that apply to any package the client would enroll in.
If it's a new client, you would need a copy of the Driver's License and previous tax return.
Once you have your list items, give yourself 24 hours and review the list with fresh eyes. You'll often think of things that didn't come to mind in the first pass.
Now that you have a clear and specific list of what you need to onboard someone based on the specific services they need, you can decide how you want to "share" that list with the client.
You could use a simple spreadsheet
You could define the list and share it via email
You could use a tool or software

The SmartPath Engage software has a feature designed to help with this specific step of the onboarding process, so if you need a tool to automate this, you can learn more here.
3 | Set Clear Expectations & Automate Follow Up
This last step sounds simple, but in reality, is one the largest areas of improvement in most firms' onboarding process…
If you agree to have surgery, you expect once you show up at the hospital, the professionals there will walk you through everything that needs to get done and alert you when something is off-track.
Taxes aren't as life-threatening as surgery, but clients still view you as the "professional" in the process and are looking for guidance.
By the time you're onboarding someone, they have already agreed to your help, so it's time to take over the wheel and be very specific about what comes next and what to expect.
Best practices for setting expectations and managing follow-up:
Define the Next Steps in Your Proposal
By the time the client says "yes" to your proposal or quote, they should already be aware of what the next steps are.

If they don't know what is going to happen next, your proposal process should be reviewed for clarity as well.

Send the client a "Welcome" email right away
As soon as they agree to the engagement., your Welcome email will make it feel like they're already making progress.
Inside your welcome email define the next three steps the client needs to execute and the time frame you'll expect things from them.
Offer to help them if needed but usually, the first steps will be:
Submit Payment
Sign your agreements
Book a kick-off call or meet anyone else on the staff they'll be working with
After these initial steps, then you can begin gathering data and documents.
Collect a Payment Authorization Form from every client
Until a client has paid you money, or given you the legal authorization to bill their credit card or bank account, they're not really a "client". They're just a prospect.
For work outside of basic tax preparation, many firms collect at least a portion of the agreed contract amount up front.
If you don't want to do that, we recommend keeping a payment authorization form on file with a valid payment method, for every single client.
This can do wonders for receivables.
Give Clients 3-days to Submit Their Initial Onboarding Paperwork
Signing your agreements and completing the payment authorization form shouldn't take more than a couple of days if you're using eSignature and online payments.
Let the client know you'll expect this paperwork within 48 hours and if you don't receive it you (or someone on your staff) will be following up with them to help.
Remove friction to make it easy for the client
What's the #1 thing that needs to happen for your practice to stay in business?
Collect revenue.
Without revenue, there is no business. Period.
Every step of onboarding should be focused on making it easy for clients to pay you and receive the value they signed up for.
If there is friction when it's time for clients to pay or give you someone you need to deliver work, it needs to be eliminated.
Allow clients to eSign documents so they don't have to look for a printer or scanner.
Accept as many forms of payment as you can.
Make it easy for a client to get a hold of you or staff during the onboarding process if they get stuck or have a question (texts, emails, chat, etc.).
Automate Your Follow Up Process
If you're setting clear expectations for what the client needs to do. Always give a timeframe for when you expect that action to be completed by the "Due Date".
If it's not completed by that time. You should have a system in place to:
Follow up and see if you can help
Remind the client you can't move forward until this step is complete
Identify what's causing the delay and see if you can address it
Utilize tools that can automate these reminders and emails as much as possible so they happen automatically without you having to think about it.
Quick Review
All of the steps mentioned will compound and help significantly decrease the time it takes to onboard the client.
If you want to 2-10x your client onboarding speed, implement these three components into your onboarding system:
To find the perfect price for any client:
Get Client Buy-In
Make sure the client sees and understands how their onboarding steps will lead to the specific progress they want to make.

Use a Shared View of Action Items
Make sure you and the client can both see the checklist of what needs to be done.

Set Clear Expectations & Follow Up
Define clear next steps.
Set an expected date for when steps should happen.
Utilize tools to automate your follow-up.

Next Steps
You don't have to implement this on your own…there are two ways we can help.
Click to download your 10x Faster Onboarding Checklist©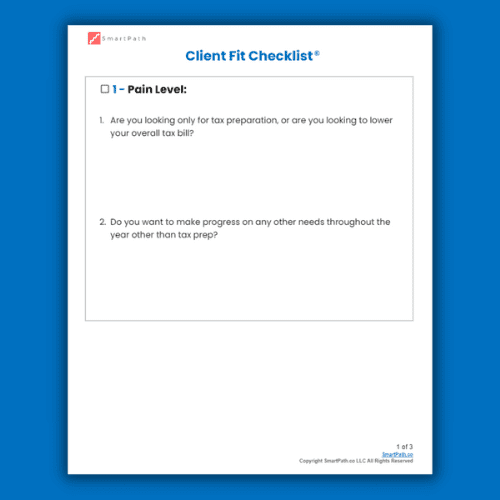 If you want to fully automate this process in your practice, but just don't have the time to do it yourself. Check out the SmartPath Engage software that will do 99% of the work for you.
(Learn more here.)
---
William Hamilton is the Founder of SmartPath.co
Over the last 14 years, they have helped 1,000's of Tax Pros perfect their pricing so they can focus on work they enjoy.