Maintaining a profitable practice means you need to know when you're at capacity and how to prioritize your work. 
Outsourcing work to freelance tax professionals is one way to make sure that your immediate team focuses on valuable work over low-margin reporting and compliance. 
Why Outsourcing? 
Freelancing is here to stay.

In today's environment, competition for expert level staff is at an all time high. Tax and Accounting professionals have the ability to work from anywhere, meaning small firms like yours are in direct competition with larger firms.

Lack of overall capacity.

You find yourself bogged down with low value compliance work. This is particularly true for firms that are in their growth stage. To make sure that you don't stay stuck in this stage, outsourcing may be your solution. This way, you don't have to hire a full time employee. Instead, you hire a professional for a set amount of hours to get your internal team ahead and focused on higher paying clients.

Accommodating a particular skillset.

You may need a particular skillset that you don't have internally. Instead of referring your clients outside of your firm, maintain their needs by outsourcing the work to qualified professionals. That way you can give the client the help they need and be the trusted resource they want. 
What should you be thinking about when hiring a remote professional? 
We put together a Remote Help Checklist of all of the things you need to think through before taking the leap to hire remote help. We've also included a special offer for SmartPath Members, granting them exclusive access to several tech resources to make your outsourcing experience as streamlined as possible, including a guide on how to access: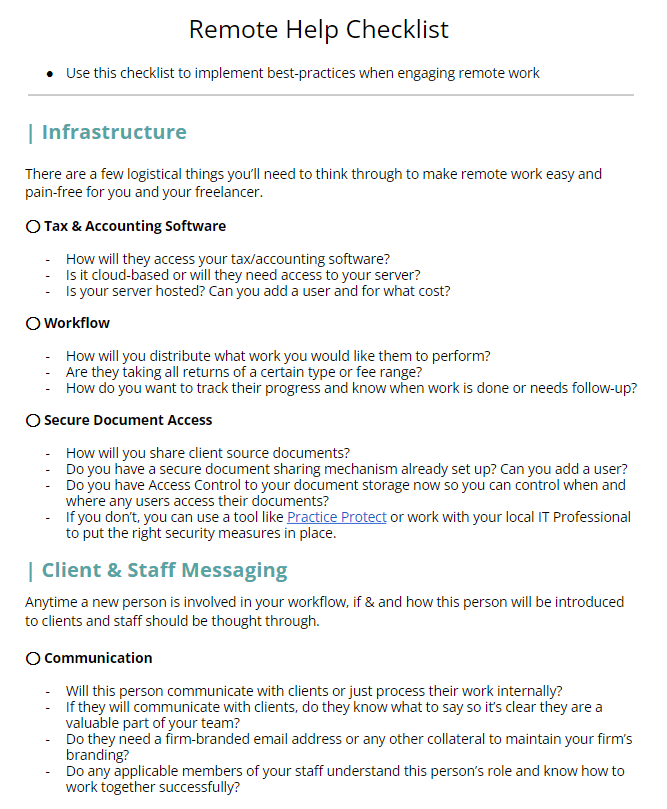 Download the complete Remote Help Checklist here. 
Is outsourcing right for you? 
Become a SmartPath member to use the SmartPath Remote Help Calculator. It will crunch the numbers and see if outsourcing is right for you.  Plug in your information and get a clear picture of what outsourcing can do for your team.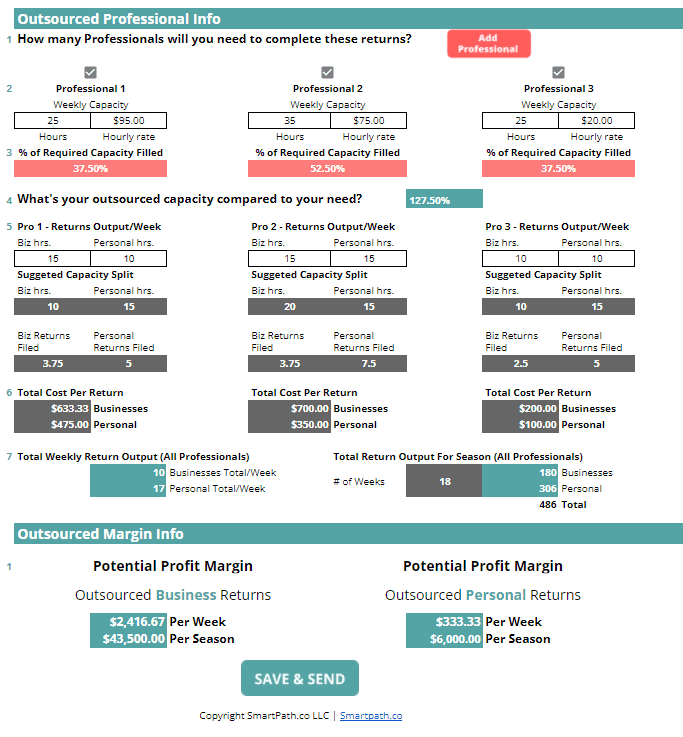 Work smarter not harder. You can continue to work 80-90 hours a week during tax season or you can outsource your work and see your firm become a profit center, all while boosting client experience. 
Access Expert Freelancers through PARO > Learn More Here.
Paro is a network of top freelance Tax, Accounting, & Financial pros in the US. 
They provide staff support during times of high seasonality (Busy/Extension Season).
Or if a firm doesn't need to hire a full-time employee.
Their professionals provide expert-level Tax Preparation, Review, & Audit, so firms can earn revenue while adding capacity.

To get access to more business solutions like this for your Tax and Accounting firm, sign up for your SmartPath Membership today.