ISMA Certification for Tax and Accounting Professionals
The Problem:
You hear all that time that you should be offering "Advisory Services" to your clients, but…
Your formal training didn't include advisory services 

Your current billing only offers traditional tax prep & accounting services

You don't know how to price or get paid for that type of work 

Even if you're already successfully offering strategic advisory help to clients, you don't have a structured step-by-step process that anyone on your staff can follow to guarantee the best possible results.

 
The Good News:
Over the past 12 years we've helped hundreds of firms successfully increase their cash flow, reinforce their relationship with top clients and stand out from the competition, all by successfully implementing Strategic Advisory Services in their tax practice.
You don't need any federal or state licenses and you don't need to go back to school for years to help your clients strategically.
We offer a simple certification process that takes less than 10 hours of study time and includes all the tools and training you need to make it easy and pain-free.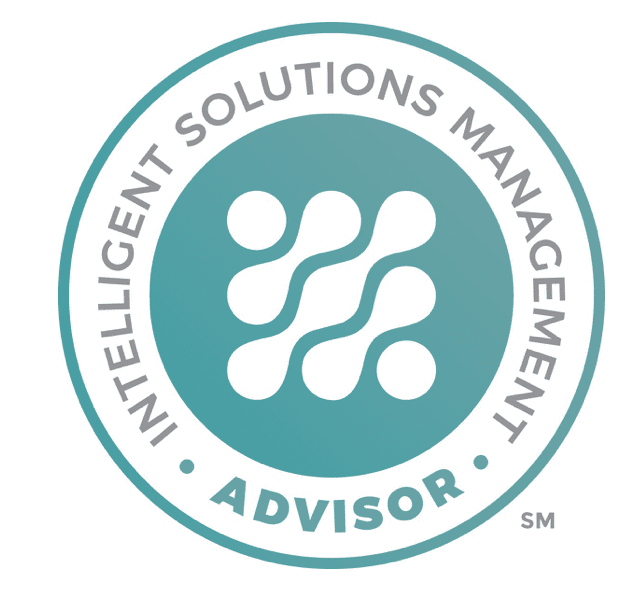 What is Intelligent Solutions Management? 
The ISMA Certification qualifies you as an Intelligent Solutions Management Advisor. This certification is intended for CPAs or Accountants looking to take their work beyond data entry and reporting. If you want to advance your client relationships and have the desire to expand your business into year round profitability, ISMA certification is for you. 
How does ISMA differ from standard Tax and Accounting training? 
Traditionally, Tax Professionals are trained to assist in historical reporting to the IRS & State, reconcile accounting, generate financial reports, and generate fees based on compliance work. 
The ISMA Certification provides you with the technical skills required to help your clients make better business and financial decisions within the scope of a strategic roadmap you create using a defined process.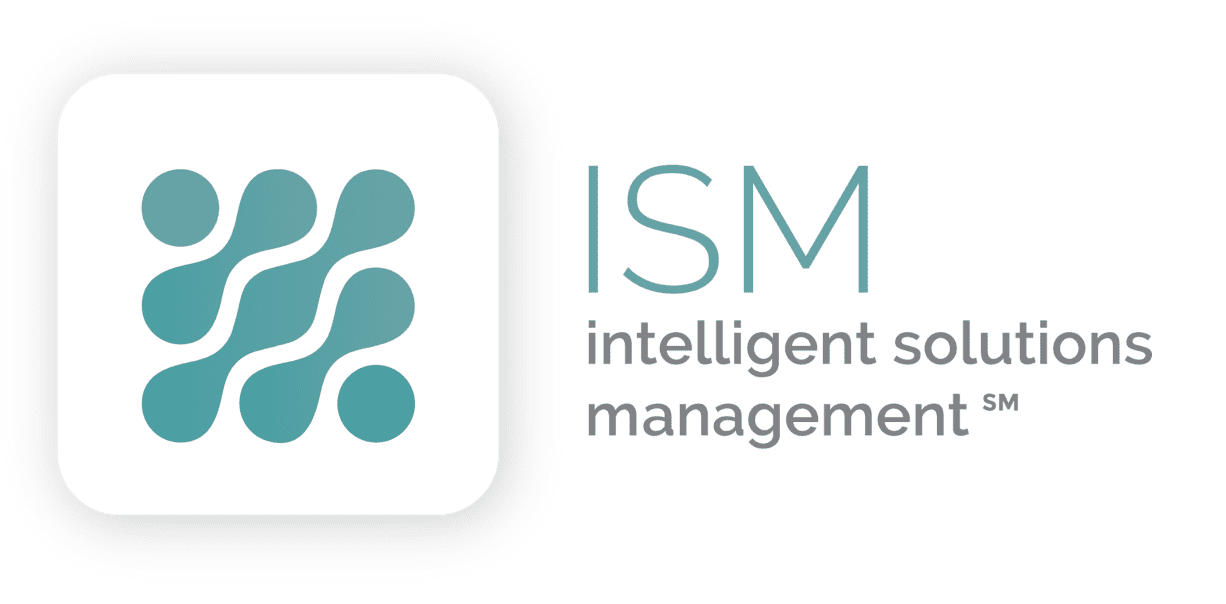 ISM is the foundational work that:
Keeps your client on track and protected from financial risk and uncertainty.

Focuses your efforts & time on planning for the best possible results in the future.

Ties your fees to the results-based conversations your clients want your help with and are happy to pay for.
ISMA is rooted in the following core principles designed to provide the most accurate, repeatable, and scalable results possible. There is a defined set of steps and action items that you work through with your client on a Year-Round basis.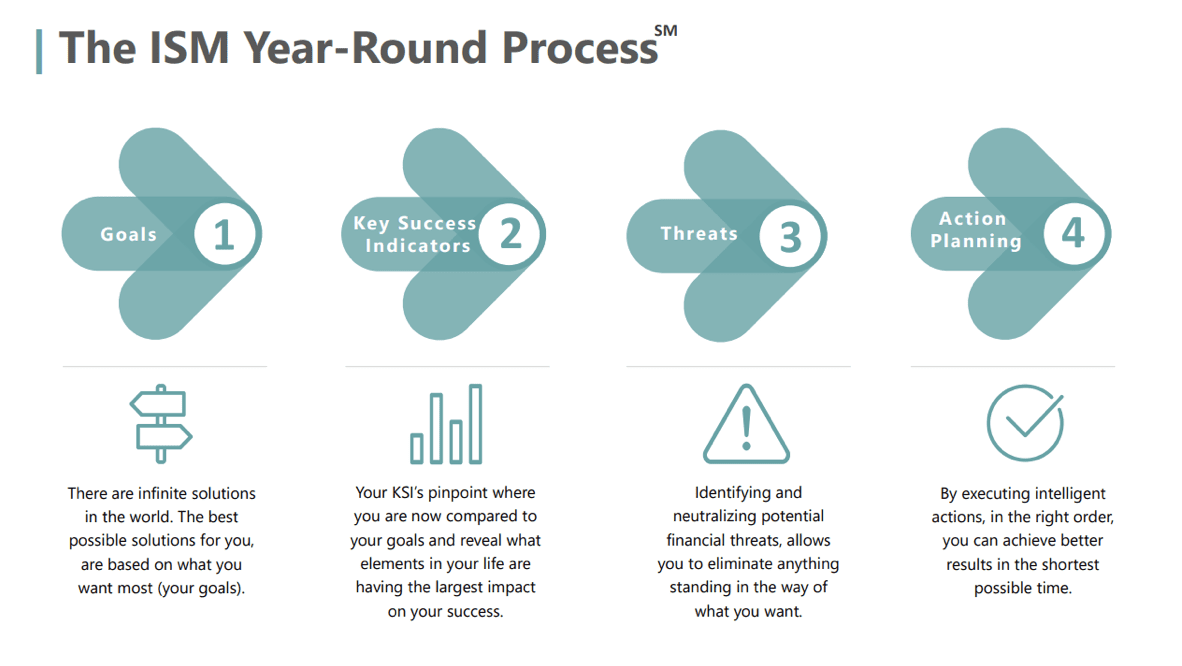 Step 1: Discover a problem /Identify Goals
Step 2: Understand the problem / Key Success Indicators
Step 3: Neutralize Threats 
Step 4: Implement a solution / Intelligent Action Planning
Where does ISMA certification fit within my existing business? 
ISMA adds to your existing tax practice. It expands your firm beyond tax season and enhances existing and new client relationships. Through your training, you will learn about:
Business and Personal Success Strategies

How to structure a profitable year round process 

Your key role as ISM advisor 
Becoming an ISMA through SmartPath provides your firm with full training, testing, certification and support. 
What do I get with my ISMA Certification? 
With your membership and course subscription, you get access to 7 training modules that dive deep into every aspect of the ISMA process. Once you're certified as an Intelligent Solutions Management Advisor, you will have full access to:
Downloadable Client Workbooks

Guides for implementing the ISM process with clients

Positioning Scripts

Marketing materials

Tech Tools
Plus: 1 on 1 assistance with SmartPath's implementation team to ensure that you and your firm are on track.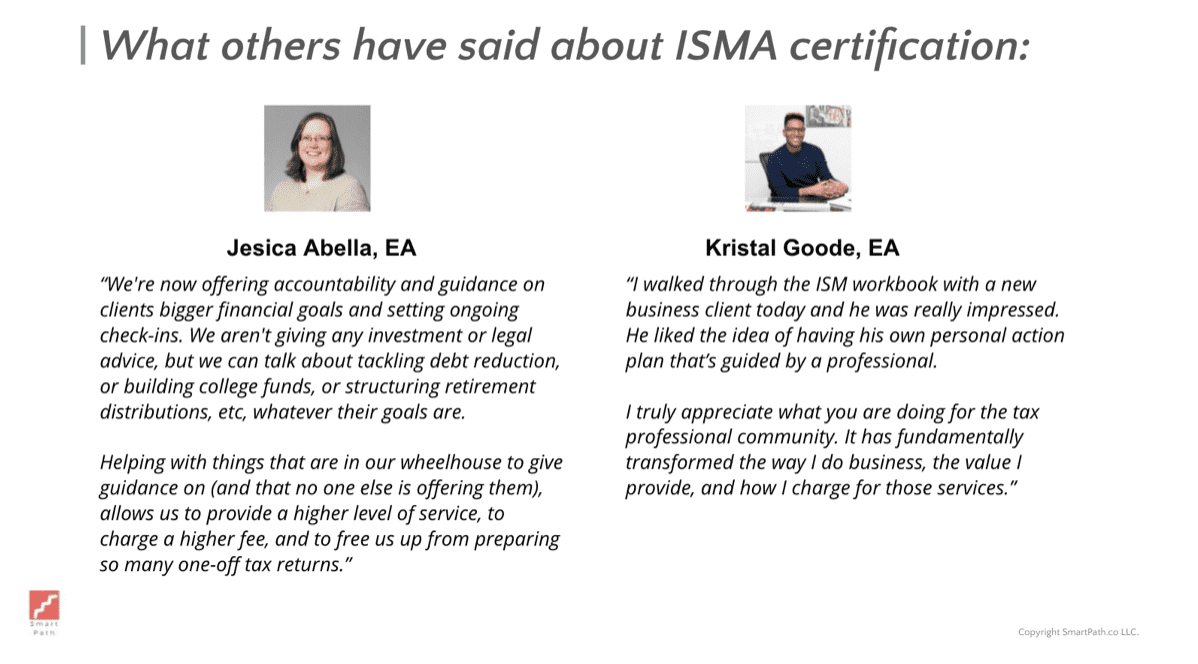 I have my Certification- what now? 
Get full access to ISM Certification and your customizable Year Round Process Deck with your Smart Path Subscription here.