Is there a concrete way to know if your client engagement is priced wrong? And what can you do to fix it without upsetting the client?
  | What you want
Most years, tax season (Jan-April) is brutal. The "busy-season" is getting harder, not easier.
At the end of it, you're feeling the pain and you don't want to go through that level of chaos again.
What can you adjust in your practice that will be worth the effort because it will actually make your life easier?
The answer: remove the roadblocks in your client engagements.
  | What's blocking you
Over 90% of firms have some form of misaligned client engagements in their practice – Clients paying the wrong price, for the wrong services.
The best way to ensure your pain level goes down this year is making sure you're being fairly compensated for your efforts.
Much of the pain you feel as a firm owner is directly caused by:
1 – Feeling like you're being taken advantage of in some way.
2 – Not knowing how to make it better, or even if it can get better.
  | Key understanding
Over the last 12 years we've analyzed pricing data for literally 1,000's of client scenarios.
There are objectively wrong, or right prices for an engagement.
It has nothing to do with what other firms in your area are charging.
The good news is, it can be fixed!
You can realign your client engagements if you correctly diagnose what's causing the disconnect – what in your pricing is making you feel like you're being taken advantage of.
  | Action Steps
Ask yourself four questions to identify if your price is aligned with any specific client:
1 – Is the engagement focused on historical reporting or future results?
Historical reporting is the least valuable service for today's modern clients. Yes, they need to record what happened in the past through accurate books and a filed tax return. But thinking about what has already happened in the past is not what they care about and it's definitely not something they're excited to pay for.
If a client is only paying you for historical reporting, but is reaching out to you during the year asking questions about the future (tax planning, employee & HR questions, cash flow planning, etc.) then there is misalignment in the engagement.
Some clients only want to pay the least amount possible for historical reporting, and that's ok – it's up to you if you choose to work with that type of client. Many clients would love to pay you for helping achieve the best possible results in the future, but you haven't offered them an engagement focused on that.
This first question is the most important, because it impacts every other element of your engagement.
2 – How much time & expertise is needed to deliver results the client cares about?
Is the work for some reason so complex it needs to be done by you personally, or can someone or something else be trained to do it?
What results or success levers in the client's life are you lending your expertise to really make a difference?
Are you involved in:
Business or personal financing opportunities
Helping the client restructure how they pay or request invoices
Teaching them how to add their spouse as employee to help with tax strategy
Helping them gain more control of their operations payroll management
How valuable is this unique assistance to the client?
3 – What are your hard costs to deliver value to this person?
Technology
Accounting Software
Payroll/HR Software
Custom industry tech
Labor
Your time & energy
Staff time & expertise
Remote/specialist help
3rd Party Services
Legal Document Prep
Financial Analysis help
Investments/Insurance
4 – What should your profit margin be to feel good about doing this work?
As the owner of a firm, you shoulder all the risk, responsibility, and most of the stress.
If you're taking on those "costs" of owning the practice, you should also be reaping the benefits…
Your profit margin is the revenue you make that allows you to create those benefits:
Increasing your personal comp
Lifestyle perks
Implementing a workflow that gives you the time off you want
Think about your profit margin for every client because that's where you're compensated for creating value for everyone else.
  | Summary
If you align the right number of clients, at the right price level, you can make life easier this year and avoid another excruciating tax season.
Do a quick pricing audit on your firm and see what your current ARPC (Average Revenue Per Client) truly is.
Ask yourself the 4 pricing questions about just 5 of your clients. This will help you identify how misaligned your client engagements currently are.
If you need help improving your engagements with clients or even just determining what a "right" price should be, we have member resources that can help – our proprietary pricing guides show you exactly how to calculate a price for any client.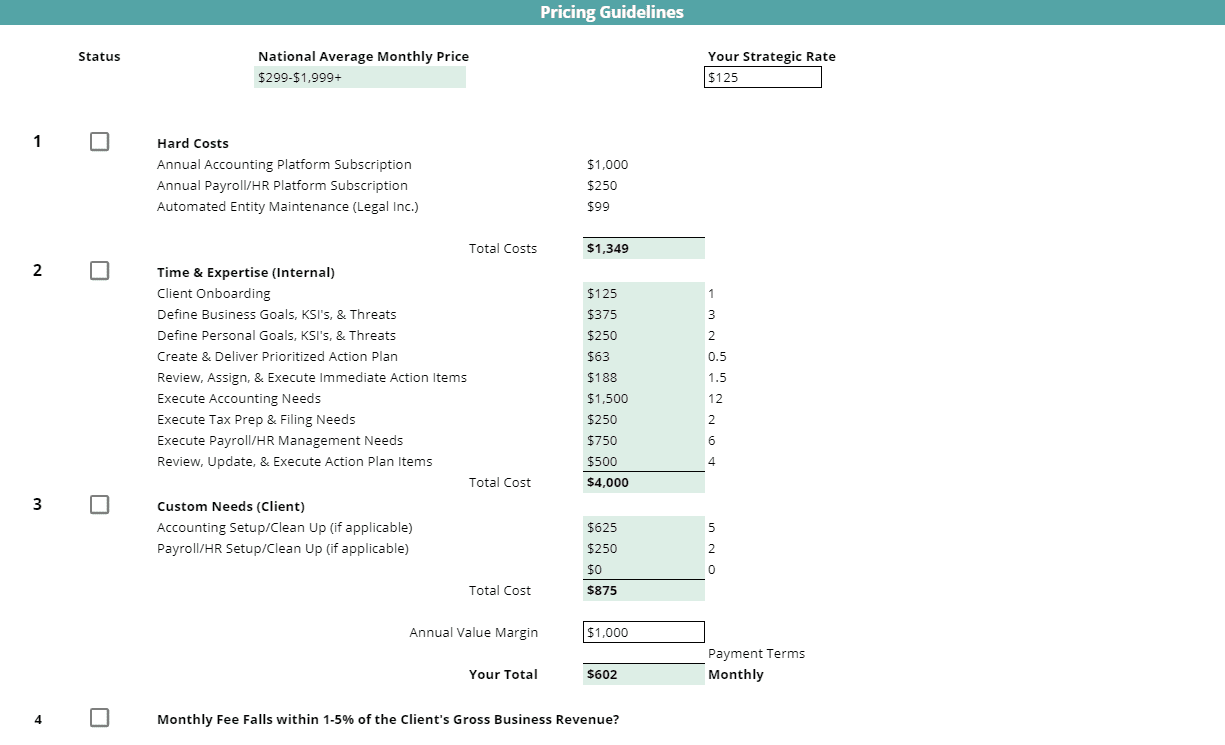 If you're ready to simplify your client engagements and increase your profits, a SmartPath membership may be right for you.
Access the tools, templates, and training you need to make life easier with simple monthly pricing packages for your clients. Visit our Membership page to see if membership is the shortcut you've been looking for.