As a tax & accounting firm owner, there will always be a million things you can do to increase your profits and optimize your cash flow.
This is exactly the problem. So often we're overwhelmed with all the options for what could be done, we stick with what we're currently doing for far too long. Then your profits suffer and you end up doing a bunch of monotonous work for clients you don't enjoy.
The antidote for this "analysis paralysis" = Focus.
What's the one thing you can focus on inside your practice, that will have the largest impact on your results next year?
I get this question frequently from firms we work with. Whether you have a roster of 50 clients or 5,000, whether you practice out of your home in Idaho, or a high-rise in downtown Manhattan – the answer is always the same…
The one thing you can do right now, that will have the most impact on your practice and profits next year, is educating your clients about your value.
Specifically, providing better education for how clients can get the value they want from you.
Why education about how clients can get what they want?
Because "life" changes for people every year. The changes this year were significantly intense for most people. So most clients on your roster, whether they ever communicate it to you or not, are thinking about how their relationship with your firm may (or may not) fit them moving forward.
So, if you can clarify that one question – "How can I get what I want from my tax professional/accountant" in 2021?" You can:
Guard against an unwanted exodus of clients leaving your firm.
Ensure your time & energy is spent on the right clients willing to pay for your help.
Have a simple and easy way to communicate your value to new & existing clients (in a sea of competing tax practices).
These three outcomes; Keeping the clients you have, spending your time on the right clients, and communicating your value to new clients, will do more for your profits and stress level than anything else you could focus on.
That's why client education is the one tactic that will lead to the greatest possible results.
How to Close the Client Education Gap
Education is teaching. The best teaching boils down to showing and communicating.
So if we are going to educate our clients about how they can get what they want from us moving forward, we simply need to show them and communicate with them.
Most firm owners are already busy and the 2021 tax season is just around the corner, so you have limited time – we get. But don't have to over-complicate or over-think this step.
The easiest way to show and communicate your value to clients is through a Client Guide.
A Client Guide educates clients by answering 6 key questions they will want, and need to know, to see how working with you will give them what they want moving forward.
Your client guide can be created and distributed one client at a time, or in bulk. The best format for your client guide is as PDF because it's easy for people to access and download on any device, or eventually you can record a video yourself reading through the PDF and distribute the video.
Besides the format, the specific content that goes inside your Client Guide is really what's important.
Research shows over 80-90% of consumers want their tax accountant to provide more clarity regarding their products & services, before being asked to make any type of buying decision.
Your Client Guide will provide this clarity by answering the right questions your clients are already asking themselves whether they ever bring it up to you or not.
What Your Client Guide Should Include
Here are the 6 key questions your Client Guide should answer.
1. What other options do I have for working with you?
Every thinking person in today's economy is looking to see if they can improve their financial options – your client included. Because of this, Tax & Accounting firms with the best cash flow right now, are giving clients two options for engaging with the firm. Why just two?
Just like you – your clients are busy and stressed and get completely overwhelmed when presented with too many options. Decision fatigue is a real thing and we're all suffering from it right now.
When you show clients the traditional laundry list of services most firms have on their website (Personal Income Tax, Business Income Tax, Accounting, Payroll, Audit Protection, Entity Type Analysis, Accounting System Setup, Business Advisory, IRS Resolution), it's completely overwhelming! The client doesn't know where to even begin and many times they'll just give up instead of contacting you to try and figure it out.
We've been tracking tax & accounting pricing data for over a decade and firms can service 90% of clients with two main offerings if they set up their offerings the right way.
That doesn't mean you won't have other offerings to meet unique client needs that arise. It means you'll focus your client guide on your two main options for working with your firm, so clients can easily and quickly understand your value.
Here are the two main options for getting help that should be in the first section of your Client Guide:

In your "Reporting-Only" Option:
The client is paying for historical compliance filing and reporting only (their tax return or transactional accounting).
The focus of the engagement is "reporting" what already happened in the past.
You're preparing and filing based on the data they provide to you.
During tax season, they receive a brief "Summary" call or email to discuss the results of their tax filing, but there's no need for a long "tax season appointment" to complete reporting.
The goal is efficient and effective filing, not anything else.
In your "Year-Round Planning + Reporting" Option:
The client is paying for year-round planning to realize the best possible results.
The focus of the engagement is "planning" for better results in the future.
You're preparing and filing their taxes and accounting based on data you've tracked, gathered, created, analyzed, and managed throughout the year.
During Tax Season, they also receive a brief "Summary" call after their tax filing, but they also receive year-round touches, meetings, and advice.
The goal is proactive action planning and execution throughout the year. No surprises and better results than the client could achieve on their own.
If you'd like to deep-dive into this "two option" approach, we teach a 90-minute masterclass on how to use this approach to increase your cash flow. Access a recording of that class here for free.
Example of how to communicate this in your guide:
"We now have two options for working together so you can make sure every dollar you invest with us, provides you the specific help you care about most. Our Easy-Reporting option helps you quickly and easily meet your filing requirements with the IRS & State so you can have more time to do the things you enjoy doing. Our Year-Round Planning + Reporting options combine all your traditional filings with our proactive planning process so you can achieve the best possible outcomes in your business and financial life."
2. How can I know which option is best for me?
This section of your client guide helps the client self-identify how complex their needs are and what specific phase they're at in their life or business. Then self-select which option is most important to them.
Example of how you to communicate this in your guide:
"Our Easy-Reporting option is perfect for clients that earn most of their income from a W2 job, don't have significant real-estate or investment holdings, or aren't at a stage in your life where you want an advocate to help you plan for your future. Our Year-Round Planning + Reporting option is perfect for anyone who is self-employed, has multiple streams of income, has real estate or other investments, and wants to pay the absolute least amount of tax possible through proactive planning. We combine all your traditional filings with our proactive planning process so you can achieve the best possible outcomes in your business and financial life."
3. When should I select which option I want?
This section educates clients about when they should move forward with an engagement with you. Most firms offer "open enrollment" where the client can select or upgrade their option at any time (based on the firm's availability). They then align the structure of the client fees based on the time of year.
Example of how to communicate this in your guide:
"We only have so many Year-Round Planning spots available, so if you're interested in that level of service, please let us know as soon as possible. Once you upgrade to a year-round planning option, you won't have a yearly bill anymore, you'll invest a simple monthly fee to cover our work together. There may be setup or cleanup costs necessary to get you healthy enough to qualify for the planning process, but we will discuss those with you before your enrollment. If you wish to downgrade to a "reporting only" option, there may be a one-time fee equal to any work already completed for you that year."
4. Why should I work with you over any other firm?
In this section you need to be brutally honest about today's current environment. Clients need more help than ever. You can't help everyone, but you are doing your best to help the clients that want and need it.
Example of how to communicate this in your guide:
We all see how drastically the world around us is changing. The speed and amount of changes in the future will only increase. The way many tax & accounting firms operate no longer creates the best results in this environment. Our approach ensures we can give clients the help they want and the results they need. By selecting one of our two options, we can focus our time and attention together on achieving the exact value most important to you, aligned with a process that will be beneficial and profitable for us both."
5. How much will it cost?
In this section, you don't need to promise an exact price, but you do need to provide a range and educate about what factors would cause their investment to go up or down.
Example of how to communicate this in your guide:
"Your pricing will be based on your specific needs. Here's what to know about our pricing so you can make the best decision for yourself. Our Reporting-Only option averages about $300-$1,000 a year for individuals that don't own a business. For business owners, it averages between $700-$3,000+ depending on the complexity of your tax return. Our Year-Round Planning option averages around $59-$199/month for individual clients and $199-$999/month for businesses. Your exact investment could be more based on the complexity of your needs, the number of services, and how much planning we both agree to in the upcoming year."
6. How do I get started?
In this section you'll want to make the next steps crystal clear so the client can "see" in their minds exactly how to get the help they want.
Example of how to communicate this in your guide:
"Step 1) Contact the office and we'll review your specific situation and verify which option may be best for your needs.
Step 2) We'll discuss pricing and agree on an engagement that perfectly matches your goals.
Step 3) You'll enroll, and we'll get started with pain-free reporting or start the planning process for the best possible results."
Creating Your Client Guide
Your Client Guide needs to look professional (but it doesn't have to be 50 pages long or overly designed). You can start with the first version and improve it over time.
You can write and design it yourself or you can hire someone to create it for you.
Download our Client Guide Checklist to get started creating your Client Guide on your own.
If you want help, we can create & customize a guide for you. Here's an example of one we just finished for a CPA firm in Washington: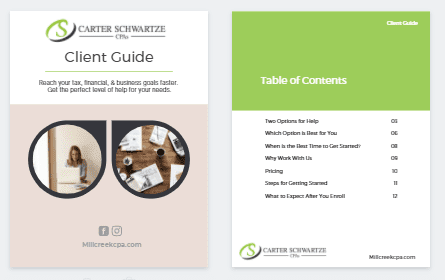 Our SmartPath "Plus" and "Accelerator" Plans include a customized Client Guide as part of your SmartPath Enrollment.
If you would like to discuss getting help with creating your guide, use this link to schedule a call with us and we can talk through your specific needs.
Whether you create your guide on your own, or you get help – here's the most important take away – creating a Client Guide this season:
Will increase your pull-through with clients wanting to continue working with you moving forward.
Over 90% of firms don't have a tool like this, so you will immediately separate yourself from the competition.
It will be worth whatever time and investment you can give it this year.
To Your Success,
Will Hamilton
Co-Founder, SmartPath